M2M and IoT Communications Across Multiple Sectors
Particularly effective for use in public sectors, the GSatMicro Series of products find homes across the field in Public, Private, Commercial, and Research capacities. Each distinct industry presents a number of opportunities to augment efficiency, enable remote projects previously thought to be impossible, or collect and utilize telemetric data to improve processes.
Public Sector
Within the public sector, a number of uses for public safety, law enforcement, military, and other personnel-command and mission control applications demand the real-time tools provided by the GSatMicro Series. Pivotal decision-making in times of emergency, crisis, or high-risk scenarios can be more informed and better executed because of the level of remote monitoring and management available from the devices and through the tracking portal.
Other public sector uses include those with large-scale asset management requirements like fleet behavior monitoring, public transport logistical control, and public utilities management and administration. All of these departments often suffer inefficiencies due to the large swaths of territory they serve coupled with under-staffing or environmental considerations. The GSatMicro Series offers ease of use and alleviates much of the pain points associated with large-scale systems maintenance, monitoring, and control.
Private Sector
Within the private and commercial sectors, the largest driver of economic opportunity in technology at the moment is the technical enablement and automation of everything that can be attributed to the Internet of Things (IoT) sprint. Without getting too far into it, the IoT revolution attempts to make it so that all people only need to understand how to operate one thing (like their smartphones) in order to be able to operate all things. This sprint has opened the door for satellite-enabled products in the consumer markets, and represents billions of dollars in revenue opportunity on a daily basis, and the GSatMicro Series satellite terminals are the perfect way to enable some of the more robust "smart ecosystem" mainstays.
Aviation
Rotorcraft
Space
Agriculture
Broadcasting
Construction
Emergency Response
Energy
Forestry
Gas
Heavy Equipment
Mining
Oil
Scientific Research
Security
Transportation
Drug Enforcement
Infrastructure
Military
Police
Public Transit
Fishing
Leisure
Merchant Shipping
---
Custom tracking solutions
Between the extremely powerful eLua scripting and external interfaces, its integration can provide truly customizable tracking. Whether monitoring fuel moving through a pipe or a soldier in the field, the opportunities are endless.
Container tracking
Programming capabilities allow device behavior to be customized to respond to events like movement rather than just timed intervals, cutting down on battery usage. Small size allows it to be less intrusive and less conspicuous than traditional units.
Vessel Tracking
While used as a tracker on vessels, it is also possible to program the unit to obtain pitch and roll measurements. This gives customers a greater ability to monitor how they are using fuel and even send an alert if the waves are too great or if a boat is capsized.
Security Services
With an astonishing size and weight, the device can be hidden and secured with minimal effort. Encryption and ability to interact with other devices over the air is ideal for security and government applications.
Fuel monitoring and logistics, Oil & Gas
With two analog inputs and two relay outputs through the main port, external voltages can be sensed using a built-in analog to digital converter, and devices can be turned on and off using relay outputs.
Recreational
Small and rugged, it can interface with other devices allowing greater communication than most personal trackers on the market. It has an alert button in case of distress and a check-in button for user-selected report timing.
Fleet Management
The terminal can be customized to measure driver acceleration in addition to location, and pair via Bluetooth with other devices to provide a complete solution.
---
Many Options. One Solution. The GSatMicro.
The GSatMicro is ideal for applications such as: security and safety, monitoring soldiers, fleet management, and secure government applications. In particular, military personnel need their communication equipment to be light, portable, reliable and rugged, which makes the GSatMicro the best among other solutions currently available on the market.
Various applications involving the GSatMicro include monitoring biometric parameters, relaying waypoints or acquisition of mission-critical information near real-time. The GSatMicro OEM is designed for easy and quick integration with existing infrastructures, missing or requiring low-bandwidth data connectivity.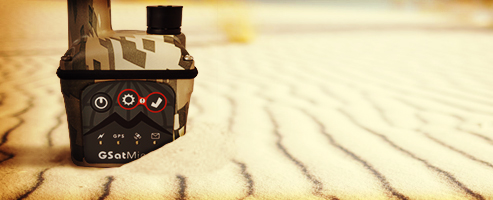 Interconnecting the GSatMicro with other hardware, user input interfaces, monitoring hardware, or environment data becomes very simple. Various tools are available for the GSatMicro Series terminals as well as outstanding support by GSE's industry leading engineering team, to enable quick development of solutions and reduce costs of implementation.