Iridium
Overview
In a world where global communications are increasingly critical, only one company connects everyone to the things that matter most, from pole to pole. Powered by a uniquely sophisticated global constellation of 66 cross-linked Low Earth Orbit (LEO) satellites, the Iridium® network provides high-quality voice and data connections over the planet's entire surface, including across oceans, airways and polar regions.
Unparalleled reach and high dependability
For customers, the unparalleled coverage and high dependability of the Iridium network means they can rely on their critical communication lifelines to work when they need them most — anywhere.
A platform for continued innovation
For partners, the flexible software-based design of the Iridium network serves as the technological backbone for the development of an impressive array of industry defining products and services.
Ready for what comes next
With Iridium NEXT, Iridium's groundbreaking second-generation constellation, Iridium is set to dramatically improve its ability to meet the growing demand for global mobile communications on land, at sea and in the skies — far into the future.
A uniquely sophisticated architecture
Iridium operates the world's largest commercial constellation, with a mesh architecture of 66 cross-linked low Earth orbit (LEO) satellites providing inherent performance and dependability advantages over bent pipe geostationary (GEO) configurations.
The low Earth orbit advantage
At only 476 miles (780 km) from the Earth, the proximity of Iridium's LEO network means pole-to-pole coverage, a shorter transmission path, stronger signals, lower latency and shorter registration time than with GEO satellites.
Unaffected by local conditions, such as natural disasters
In space, each Iridium® satellite is linked to up to four others — two in the same orbital plane and one in each adjacent plane — creating a dynamic network that routes traffic among satellites to ensure global coverage, even when traditional local systems are unavailable.
Extensive, interconnected and reliable
Iridium's global constellation is supported by a recently upgraded, extensive ground infrastructure that ensures the high reliability and capacity of the communications network through multiple layers of redundancy and back-up systems for all critical functions.
Dedicated to resiliency and performance
Interconnected by advanced fiber-optic and broadband satellite links, the Iridium® ground infrastructure consists of the Satellite Network Operating Center (SNOC), Ground Stations and Technical Support Center, which together provide: Terrestrial connections for mobile satellite voice and data; Network command, control and monitoring; Technical support
Original Source: https://www.iridium.com/network/globalnetwork
Wikipedia: https://en.wikipedia.org/wiki/Iridium_satellite_constellation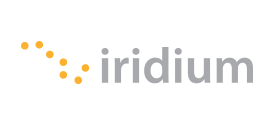 Benefits
Global Coverage

Communication in remote areas

Unaffected by local conditions

Resilient Network
GSM
You are able to customize all aspects of the GSatMicro Series, even the network you want to connect to. The X Series adds a GSM module to your terminal enabling the ability to have multiple layers of network connectivity creating a redundant platform for your communications. Working as hybrid solutions, the GSatMicro X and the GSatMicro OEMx, have the capability to switch flawlessly between local, land-based cellular networks and Iridium's globally accessible satellite network.
Not only does a multi-network hybrid solution provide continuous communications, it can also reduce costs by using GSM as a less expensive way to send and receive data. You also have the option to choose which network is the primary means of transmitting data and which network is the failover network used for backup communications. The options are highly versatile and can be controlled based on the requirements of your project.
Wikipedia: https://en.wikipedia.org/wiki/GSM
Benefits
Lower Cost

Better coverage inside buildings

Faster data transfer

Network redundancy

Versatile options